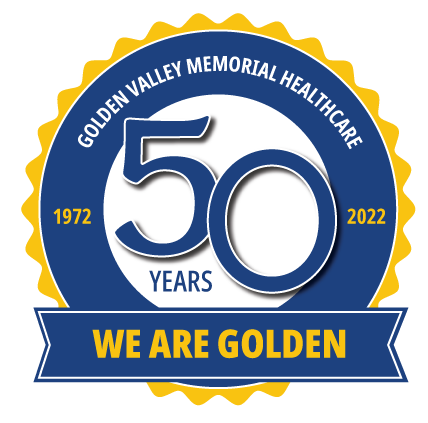 Dedicated to Providing You Our Golden Standard of Care for 50 Years
On February 29, 1972, Golden Valley Memorial Hospital officially opened its doors in Clinton. Over the past five decades, the organization has continued to expand its facilities, providers and services to ensure its patients can get the expert care they need, close to home.
GVMH has also worked to be the employer of choice for the area by offering a wide selection of career opportunities and a culture that is motivating, rewarding and supportive.
Below is a list of some of the key highlights and history over the past 50 years.
1966:
Dr. Gus Wetzel Sr. and Dr. R.S. Hollingsworth worked together to spearhead a petition to establish a public hospital.
An election was held and the vote passed 791 to 480 to form a hospital district.
First Board of Directors:

James Thornton, Chairman
Harry Mills, Vice Chairman
James Long, Treasurer
H.E. VanCampen, Board Member
Rolla Jones, Board Member
Cecil Simpson, Board Member
1966
Charles and Elizabeth Gaines donated 20 acres of land for the hospital to be built.
1972:
An open house for Golden Valley Memorial Hospital was held on January 16, 1972. It is estimated that 5,000 people attended.
Hospital opened February 29, 1972.
Patients were discharged from General Hospital and Wetzel Hospital at 9 a.m. and taken by a fleet of ambulances to GVMH. It only took two hours and 10 minutes to transport 54 patients to the new facility. Another 14 patients were admitted that day.
GVMH was in operation just a few hours when the first child was born at 2:09 p.m. The 6 pound 11 ounce baby girl, was born to Mr. and Mrs. Dale Mitchell of Sugar Creek.
William Dody was the oldest patient. He was 103 years old.
GVMH had approximately 175 employees and 100 beds.
Medical Staff included:

William Bradshaw, MD
James Clouse, DO
James Coleberd, DO
Clinton Glaspy, DO
Robert Harbaugh, DO
Harve Helton, DO
R.S. Hollingsworth, MD
Shelby Hughes, MD
Richard King, MD
Ross Powell, DO
J.O. Smith, MD
Roger Thomas, DO
Carroll Wetzel, DO
Gus Wetzel, Sr., DO
1975:
Took over operation of the ambulance service from local funeral directors.
Opened Nuclear Medicine.
Golden Valley Hospital Auxiliary was formed

Board members were:

Suzie Wetzel, President
Sandy Wiles, Vice President
Judy Spooner, Secretary
Neva Mining, Treasurer
Sandy Wiles, Membership
Janet Hunter, Ways and Means
Andy Clouse, Volunteer Service
Linda Martin, Public Relations
Gloria Saddoris, Gift Shop
Marilyn Jennings, Sewing
Helen Shrout, Historian
1976:
Received Joint Commission accreditation.
1982:
Flew first patient on Life Flight.
Completed heliport.
1983:
Completed construction on new Outpatient Surgery and Admitting areas.
1984:
Started Home Health Agency.
1989:
Formed Golden Valley Memorial Hospital Foundation.
1993:
Relocated Home Health Services to its own building due to demand for services.
1997:
Celebrated 25th Anniversary and completion of expansion project for a new Surgery department, and expanded facilities for Inpatient, Outpatient and Recovery Services. The project also included a new Birthing Center, Endoscopy, Oncology and Urology areas, as well as updates for the Laboratory, Respiratory Therapy, Nuclear Medicine, Ultrasound and Social Services.
2006:
Opened Golden Valley Medical – Clinton.
2007:
Opened Golden Valley Medical – Warsaw and Golden Valley Medical – Windsor.
2008:
The Board changed the name from Golden Valley Memorial Hospital to Golden Valley Memorial Healthcare to communicate the breadth of services.
2010:
Started Walk-in Clinic and Cardiology Services in Clinton.
2014:
Opened Golden Valley Medical – Osceola.
2016:
Opened Golden Valley Medical – Osceola in new building.
2018:
Acquired Twin Lakes Hospice.
2019:
Opened Cancer Center in partnership with Sarah Cannon Cancer Institute and HCA Midwest Health.
2020:
Acquired Saint Luke's Medical – Clinton.
Had first COVID-19 positive patient in Missouri.
Renovated former Aldi building and moved Therapy Services.
2021:
Named high-throughput vaccine provider for Missouri.
Opened East Campus.
Approved for Radiation Oncology Services.
2022:
GVMH has more than 950 employees.
Virginia Graham is the first employee to work 50 years at GVMH. She started on opening day in 1972 and has held various positions in Medical Records, Human Resources and Administration. Throughout her career, Virginia served as the Executive Assistant for four CEO's.